Lacamas Lake Pollution


"The 67 square mile Lacamas Creek Watershed is a large basin with 5 major tributaries flowing to Lacamas Creek where a combination of current practices and past activity over the last 100 years have led to this point. The vast majority of the Watershed is located outside the City of Camas. As such, the issues of water quality in Lacamas and Round Lakes is really a full watershed issue. Historic analyses of Lacamas Lake have shown that approximately 95 percent of the of the total water flow into the lake comes from Lacamas Creek. Thus, the City is partnering with multiple groups and State agencies, such as Clark County and the Department of Ecology, on a variety of Watershed efforts."
City shares water-quality testing data, cleanup strategies for Camas lakes
Open house at Lacamas Lake Lodge draws more than 100 interested residents
Post Record, July 20, 2023
Toxic algae warning issued at Lacamas Lake
Public Health warns people to avoid swimming, water skiing in lake or letting animals come into contact with water.
July 13, 2023


City of Camas Workshop Lake Presentation

PDF, Begins on page 226
July 3, 2023


City Provides Statement on Lacamas Lake Litigation

City of Camas, Date Unknown


City to Move Forward with Lake Management Plan, Regardless of Threatened Litigation

City of Camas, Date Unknown
Camas asks: What's wrong with our lakes?
Consultants work on plan to address pollution, algae
By Kelly Moyer, Oct 3, 2021


Camas residents urge city, HOA to settle lawsuit, restore area near Lacamas Lake

By Kelly Moyer

,

Sept 23, 2021


First phase of Camas' lake cleanup plan underway

90-day 'Phase I' will determine data collection needed in more extensive 'Phase II'
By Kelly Moyer, Aug 11, 2021

Lacamas Shores biofilter polluting Lacamas Lake
By John Ley, Feb. 15, 2021

Aug 2023
Elected Mayors or Appointed Managers?

Five mayors in three years (2018 -2021), yet the instability started with a unanimous council vote to appoint councilor Shannon Turk as mayor in 2018. When she ran in 2019, she was easily beaten by the late write-in campaign of Barry McDonnell. Then the scamdemic followed. There are those in Camas who want to take away the the voter ability to elect a mayor, the leader of the city, and replace it with a council appointed manager, who would then be the leader of the city, which effort would be contrary to the principle of subsidiarity. Council/Manager mayors are only ceremonial. That would be a change from the current Camas Mayor/Council form of government to Council/Manager. Given the extremely poor choice of the council in selecting Shannon Turk, who was even known to be pro retail marijuana for Camas, it should be very obvious that the electorate should continue choosing a real mayor for Camas.

Sept 2018: Mayor Scott Higgins resigns
Nov 2018: Shannon Turk appointed Mayor
Nov 2019: Barry McDonnell elected Mayor
May 2021: McDonnell resigns, Ellen Burton appointed Mayor
Nov 2021: Steve Hogan elected Mayor

Camas mayor resigns unexpectedly Barry McDonnell won write-in campaign weeks after entering contentious November 2019 race; Mayor Pro Tem Ellen Burton will lead city temporarily, Post Record, May 12, 2021





Oct 2021



Lacamas Lake North Shore Development Land Purchases


Camas City Council approves $17 million land purchases
Clark County Today, Tuesday, April 7, 2020
Making space for nature in Camas City, county work to protect 100 acres of natural space near Lacamas Lake
Post Record, January 11, 2018: "The city estimates that it will cost about $4.8 million to purchase the land."
Project would bring trail full circle around Lacamas Lake
Columbian, December 21, 2017: "The Camas project is expected to cost $4.8 million."


Aug 2021
The Camas Detox Center Controversy

LifePac's concern is governmental corruption, whether The Common Good was subverted by a special interest capturing city government in the process that led to the approval of the drug rehab center by a hearing examiner. The detox center developer, after some documented and possibly some yet to be documented (see below) wranglings with the City of Camas, eventually submitted a "Type III permit pre-application" for a convalescent center. This path to approval did not involve a change of code which would require a public hearing, but instead an interpretation of what a convalescent center is by a hearing examiner. Camas follows this linked recommendation by the Municipal Research and Services Center for resolving such land use challenges, which recommends that a decision on whether such a classification is correct should go to a hearing examiner. A public hearing was not an option available to the council. Due to a citizen law suit against the City of Camas, the issue of whether a convalescence center classification covers a drug detox facility will be taken up in Superior Court. LifePac has heard, but has not yet unconfirmed, that a Washington State court previously ruled that drug rehab centers are convalescent centers.

Of special concern is why a type III permit pre application was made. Also, why there is an absence of seven weeks of any relative emails as shown in three separate public records requests made by the Dorothy Fox Safety Alliance covering the time period just prior to the Type III permit application? Further, the city at one point asked to have the Superior Court case dismissed, though it has since retracted that request. It's abundantly clear that a drug treatment facility that allows its patients to leave at will should not be at the Prune Hill location.
Dorthy Fox Safety Alliance
Citizen group formed in opposition to the drug treatment center to be sited next to an elementary school and a church.
DETOX Facility Update

City Council Candidate Leslie Lewallen, Sept 15, 2021


Camas sued by citizens over drug detox facility process
Clark County Today, June 17, 2021


Camas DETOX Fiasco Front and Center on Lars

YouTube, Jun 14, 2021

Citizens question Camas process in allowing detox center next to school

Clark County Today, June 11, 2021


Drug rehab opponents file petition for reconsideration

Post Record, May 20, 2021


Hearings examiner OKs Discover Recovery permit Decision will allow drug rehabilitation center to operate in Camas

Post Record, May 1, 2021


Prune Hill drug detox center decision pending

Post Record, April 1, 2021


Substance abuse treatment and recovery center proposed for Camas

Post Record,
Feb 18, 2021
Sept 2021
Crown Pool Removal
LifePac has been told that the Clark County Health Department was pressing the City of Camas for the pool's demolition, imposing fines while it was operated. It's removal just prior to the 2019 Aquatic Center Proposition 2 vote may have been intended to manipulate citizens to vote for the proposition.


City Council Moves To Demolish Crown Park Pool — To Plan For New Pool Complex

Lacamas Magazine, Jan 2018


June 2021

City of Camas Facebook post below celebrating promiscuous sexuality, which in society contributes to the incidence of abortion and other social ills, such as family instability.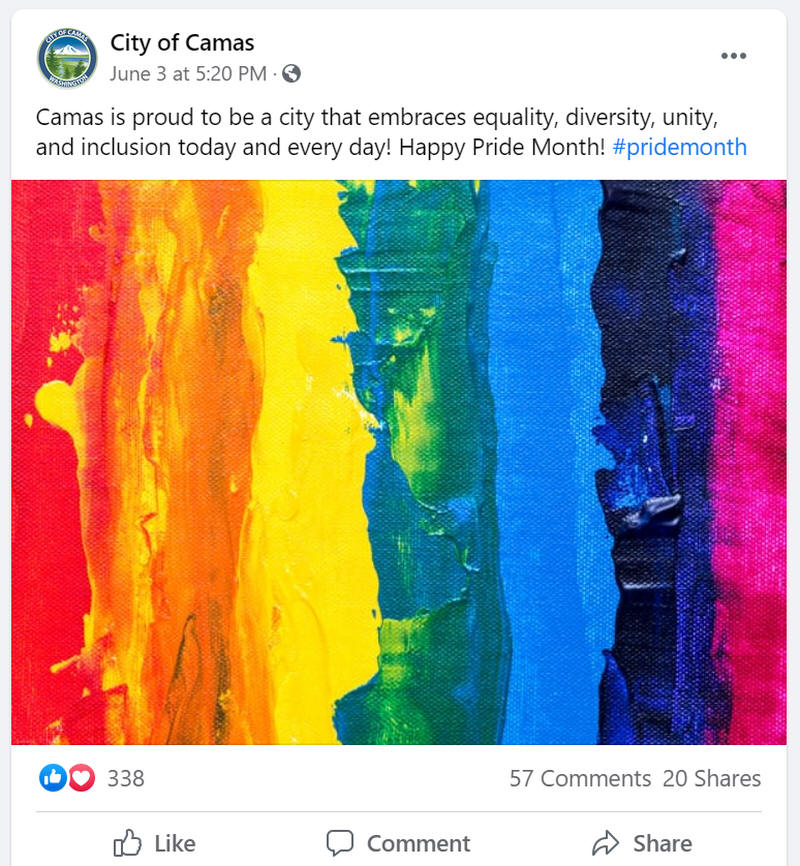 Camas group's efforts to get cannabis on the ballot unsuccessful for now
Clark County Today, September 1, 2020

Petition signatures returned this week; final count found insufficient by auditor's office CAMAS — The Camas-based PAC Camas for Cannabis Access submitted over 2,400 signatures for adding Initiative 1 to the November general election ballot, but was returned an insufficiency result from the Clark County Auditor's Office. In the last 10 days more signatures were collected, but were also found insufficient.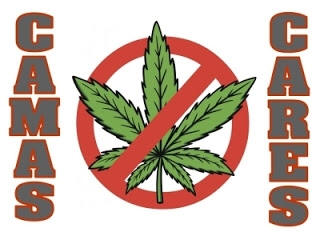 Analysis: Camas ranks among Washington's safest cities
The Columbian, February 21, 2020

SEATTLE — If you're looking to move somewhere safe in Washington, you might want to consider Oak Harbor on Whidbey Island, West Richland in Benton County, Camas, Snoqualmie or Bainbridge Island. Those are the safest Washington cities, according to a recent analysis of FBI data by the National Council for Home Safety and Security, a trade organization for home-security businesses. The analysis looked at statistics for violent crime and property crime.



2019 Aquatic Center Proposition 2:



Camas voters sink aquatics center
Post Record, November 6, 2019

Camas Aquatic Center plans face community opposition
Clark Co Today, September 27, 2019

Camas officials, residents wade into pool controversy
Columbian, October 20, 2019

Camas City Council Eyes New Aquatic Center Site; To Seek Public Input, Vote
Lacamas Magazine, April 2, 2019


Form of City Government Issue, Started in 2018
Form of Government Advisory Committee video report to Camas Council
June 4, 2018, Time Mark 23:15
Includes citizen comments at end of hearing

June 4, 2018 Agenda packet that includes extensive documentation which report was based on (pdf)
Begins page 32

MRSC: Common Issues and Pro/Con Arguments in Elections to Change Form of Government

Public Management Journal: The Unofficial Role of the Administrator, Oct 2008
Many communities, looking for the benefits of professional management without the requirement of going through a formal election to change the form of government, have chosen to create a position similar to that of a city manager, but under the authority of the mayor. The resulting hybrid form of government is often described as being "the best of both worlds" that includes elected leadership with professional management of day-to-day local operations.

'Strong council' urged in Camas, Business leader says proposal would hurt private employer
Post Record, June 7, 2018
Federal Way: Council votes 6-1 to oppose elected mayor initiative, Sept 21, 2009
Federal Way vote may put mayor in charge, February 11, 2008
Camas City Council bans retail marijuana sales
Public hearing draws a large crowd
Post Record
October 26, 2015

The Camas City Council voted Monday to prohibit the retail sale of marijuana within city limits.

The 5-2 decision came following nearly two hours of public testimony reflecting both sides of the issue. City council members Don Chaney, Greg Anderson, Steve Hogan, Tim Hazen and Bonnie Carter voted for the ban, while Shannon Turk and Melissa Smith voted against.

Chaney indicated that he strongly opposes allowing retail marijuana sales in Camas. "Tonight, the question before us is whether or not we should allow retail sales of marijuana," he said. "It's not about the use or possession of marijuana, at least as far as I'm concerned. And, it's not about the personal qualities or business opportunities of the proponents. That's not an issue here for me. The issue is, what's it going to do to our community, and how does the fact that we do or do not [allow retail marijuana businesses] reflect the culture of our community? We get to steer that a little bit because of decisions before us."