Joe Kent (R)


2022 US Congressional Candidate
District 3


LifePac Endorsed
Our Generation's War: An Interview With Joe Kent
IM1776.com, Article, Sept 2, 2022



Joe's Explanation of his Operation Chaos Bernie Sanders Vote:

LifePac talked with Joe about his Bernie vote and we've posted his quoted explanation below. Joe also told us about growing up listening to Rush Limbaugh from about age 11 or 12, as that was common family fare in his home. Joe's mother from at least that time was an engaged pro life activist. A note for clarification: Joe says that he participated in Operation Chaos from its beginning, targeting Hillary in 2008, and subsequently engaged in Operation Chaos several more times through the years. He was out of the country in the military during those years, so it was his way to be politically involved while away.

Quote from Joe to LifePac: "Here is my explanation of the Bernie issue - Thanks for reaching out. My opponents are coming after me because they know I can win and they're spreading misinformation about my voting history. I worked for Trump in 2020 & I did everything I could to help him win including registering as a Democrat to vote for Bernie so he could have the weakest opponent in the general election. This strategy is something that Rush Limbaugh came up with – he called it "Operation Chaos" and he encouraged conservatives to do it. I have never voted for a democrat in a general election (when a democrat was running against a Republican). In 2020 there was no Republican primary for President (Trump was the nominee & incumbent). I registered as a democrat to vote for the democrat who would be easy for Trump to beat in the general election, that was Bernie. While I was a registered democrat I was working for the Trump 2020 campaign & speaking out on behalf of Trump's foreign policy & treatment of our military families. I grew up in Portland and left Federal Service in 2019 after my wife, Shannon Kent, was killed in Syria. I bought a house in Yacolt WA in July 2020 & voted for Trump in the general election. Trump's 2020 campaign vetting team was aware of my voter registration & the reasons why when I was vetted for the re election team. When I was offered a job in a 2nd Trump admin I was vetted again, and once more before I received the Trump endorsement. Here are a few media events I did with Trump's team in 2020 (while a registered dem) - Please note the dates, all of these media events & articles were while I was a registered dem (for the above listed reasons) and working for the Trump team- "

Military Families for Trump with Kimberly Guilfoyle, May 27, 2020:
https://www.facebook.com/DonaldTrump/videos/1128441887490186/

Military Families for Trump Online with Marc Lotter, May 16, 2020:
https://www.facebook.com/DonaldTrump/videos/321086325550355/

Kent: Why President Trump Should Follow His Gut on Foreign Policy, Breitbart, Oct 7, 2019
https://www.breitbart.com/national-security/2019/10/07/kent-why-president-trump-should-follow-his-gut-on-foreign-policy/

Trump came to Dover after my wife was killed fighting ISIS. He absolutely respects our service, NBC News, Sept 5, 2020
https://www.nbcnews.com/think/opinion/trump-came-dover-after-my-wife-was-killed-fighting-isis-ncna1239425

Joe Kent for Congress, YouTube, Mar 1, 2022
https://youtu.be/2z8UHOu7VqA

Operation chaos: The Republicans Planning to Vote in South Carolina's Democratic Primary, The New Yorker, Feb 18, 2020
https://www.newyorker.com/news/campaign-chronicles/the-party-raiders-of-south-carolina

Limbaugh: 'Operation Chaos' Going On In Multiple Primary States, And Here's Evidence, The Daily Wire, Mar 2, 2020
https://www.dailywire.com/news/limbaugh-operation-chaos-going-on-in-multiple-primary-states-and-heres-evidence


Trump (Not Bernie) Team:
Opposition campaigns have used these recent, post military pictures of Joe on pro Trump news shows, out of context, to imply Joe's a long haired liberal; a grossly malicious act.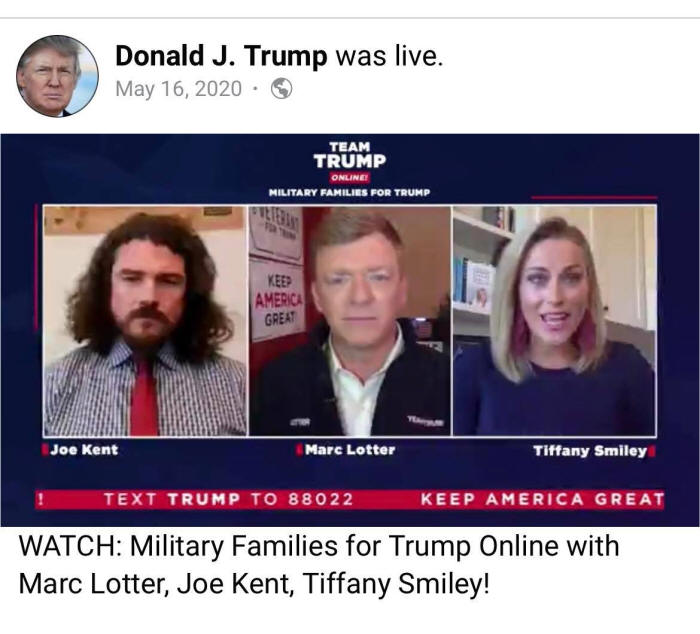 Proof of Joe Kent's 2018 Republican registration in Maryland: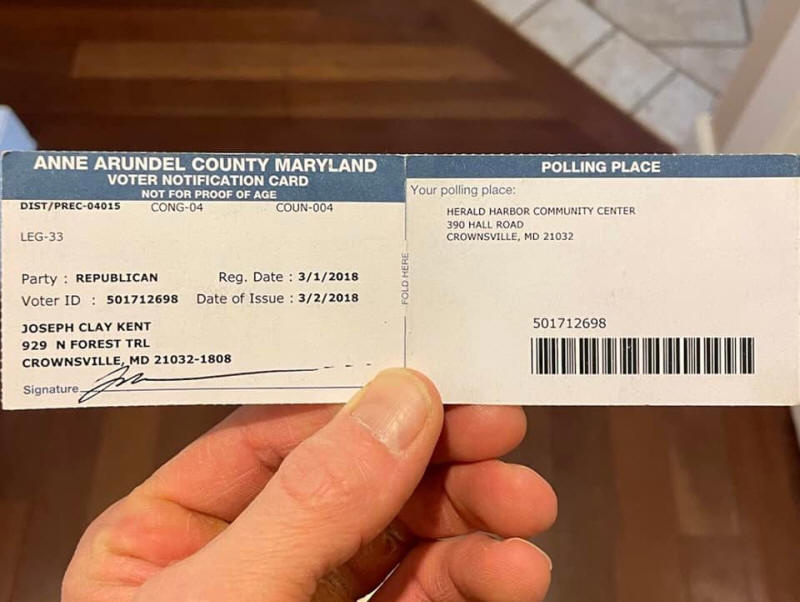 Joe's Certificate of Release from Active Duty:
Five Bronze Stars, and many other honors and acheivements: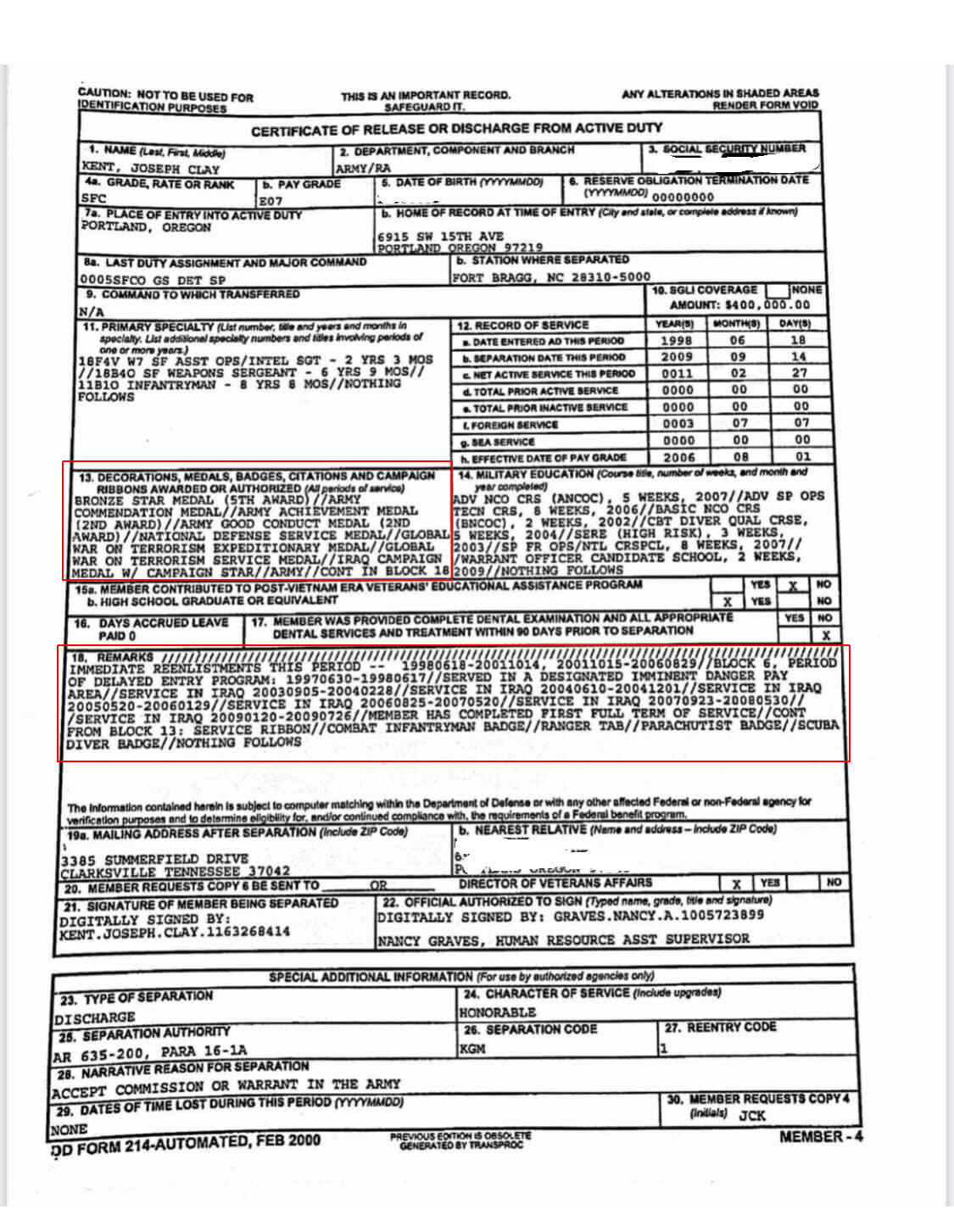 Lots of great news on Joe Kent posted here on his website
Joe Kent: The Fight Will Continue In Washington State
Bannon War Room Video,
July 27, 2022

Joe Kent Interview | Straight Talk
KGW News, July 28, 2022, 18 minutes
Joe Kent Campaign 30 Second Ad
Facebook, July 28, 2022

Straw Polls: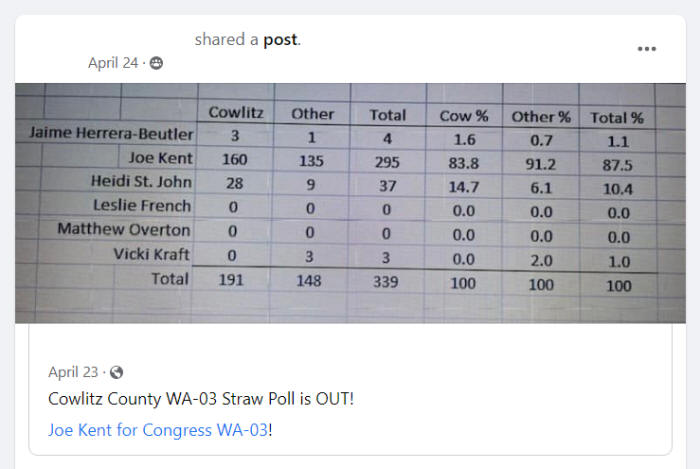 https://www.facebook.com/groups/CowlitzGOP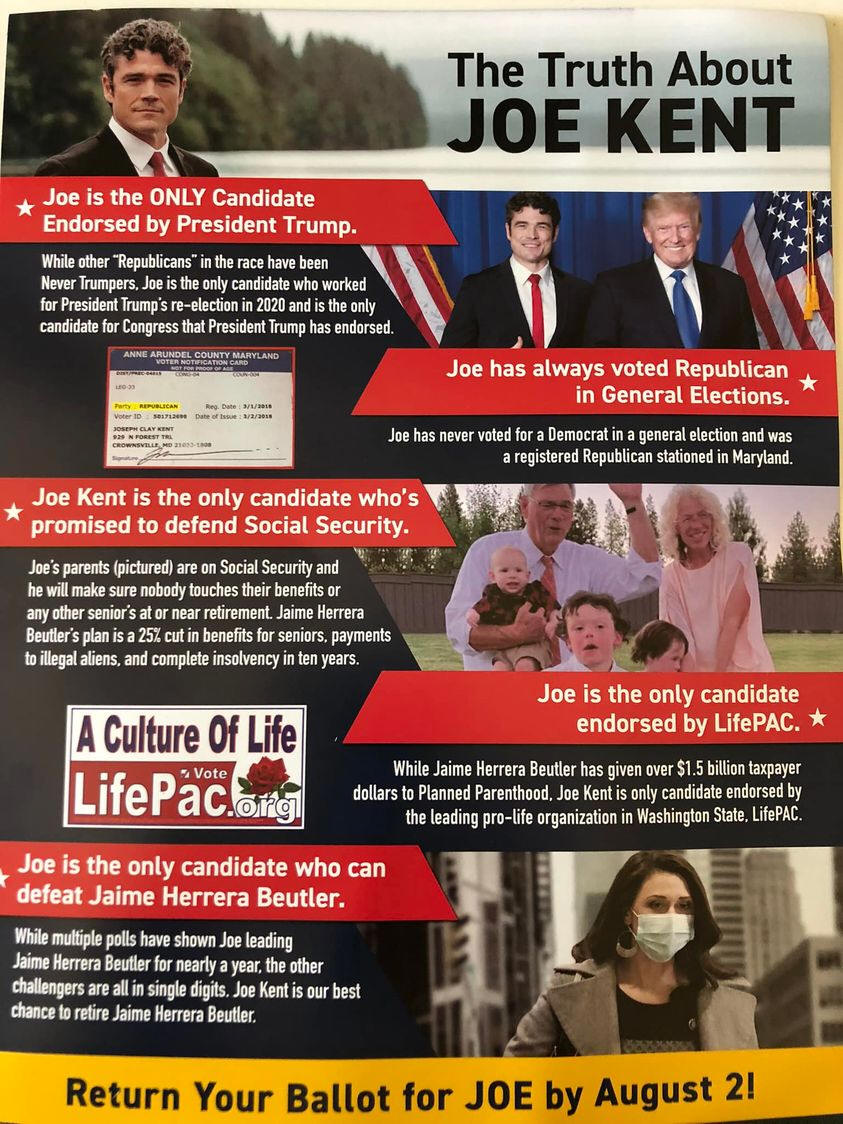 Joe With MAGA Hat In 2017: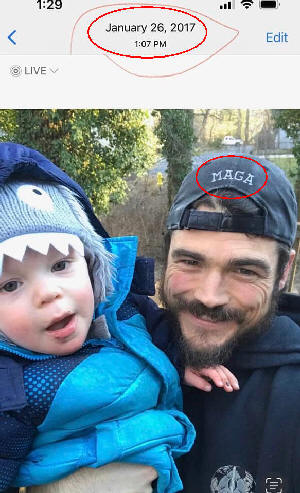 Lars Larson Podcast
2/11/22
Begins about 18:00
On Bannon's Warroom
Apr 29, 2021
Joe Kent to challenge anti-Trump republican in Washington state… America First!
Posted April 27, 2021 12:06 pm
I'm an America First Republican running against Rep. Jamie Herrera Beutler who voted for impeachment & no longer represents our community's values. Hear my story and more about why I'm running for Washington's 3rd District below.